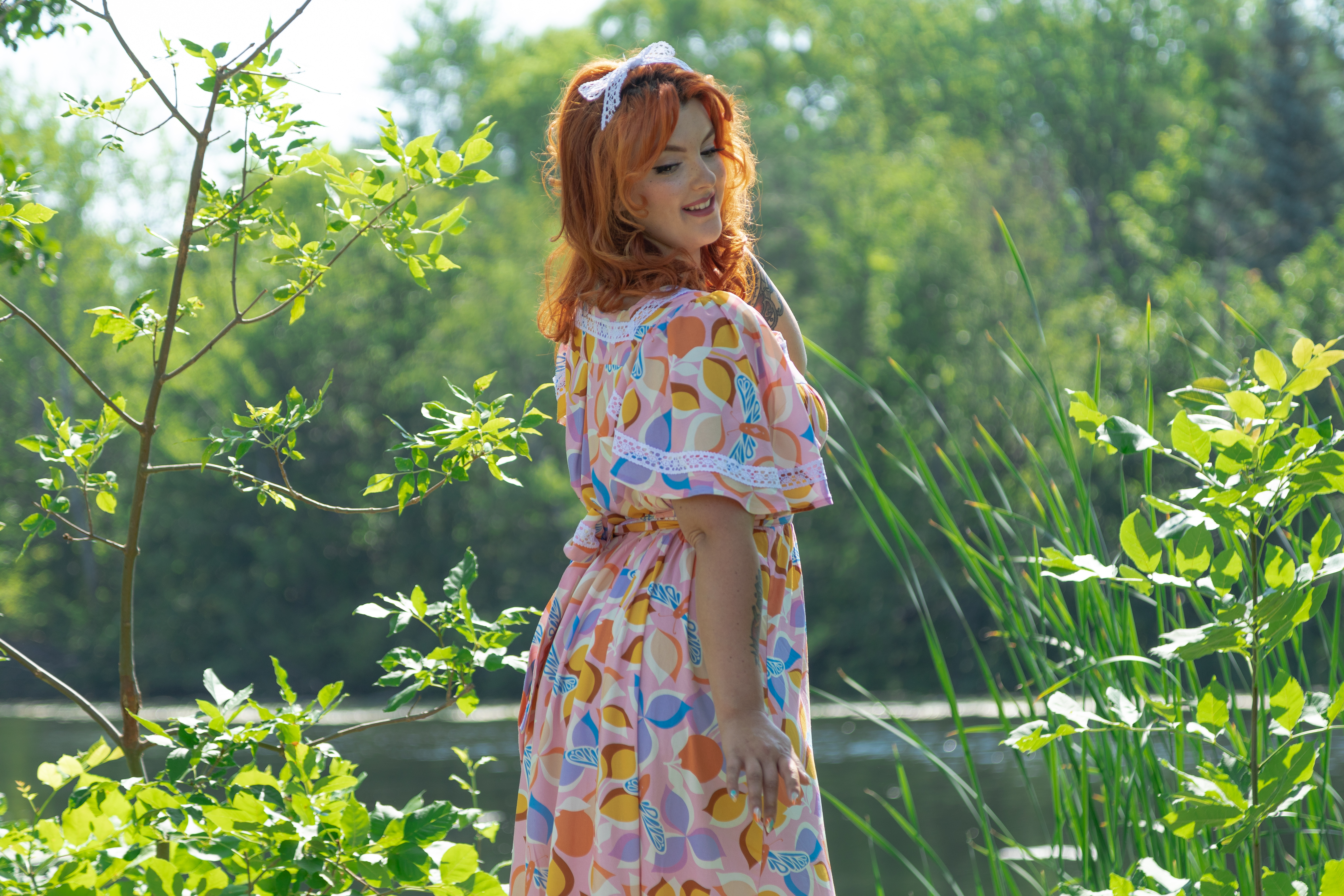 All you need to know about rayon and viscose
Rayon—which also goes by the name of viscose—is a fibre that's not very well-known. You will, however, find plenty of it on the shelves of our stores. Since rayon fabrics are perfect for the hot summer weather, we'd like to help you learn more about it.
What is rayon or viscose?
Rayon was created during the 19th century, primarily as an imitation silk that was cheaper to manufacture and used more easily accessible raw materials. It's an artificial fibre, meaning it's neither natural nor synthetic.
It's made by taking a naturally occurring element, cellulose from wood or bamboo pulp, and transforming it into a liquid via a chemical process. The result of this metamorphosis is used to create rayon thread, which may then be woven to form a host of textiles: challis, poplin, twill, crêpe or voile. In this article, we'll focus on woven fabrics, but there are also knit rayon fabrics.
In North America, the term rayon is mostly used, but Europeans prefer the word viscose. It's helpful to be aware of this distinction when looking at recommendations from different pattern brands.
European companies such as Burda and Fibre Mood will suggest viscose, while companies from the U.S. or Quebec, like Vogue and Jalie, will instead talk about rayon. That means you can use a viscose fabric without any worries even if the pattern recommends rayon.
For the sake of clarity, we will only use the word rayon here, but all our advice applies equally to viscose.
When talking about rayon fabrics, the first thing that comes to our mind is undoubtedly their wonderfully smooth fall. They're much more supple than natural-fibre fabrics like cotton or linen. They can therefore be used to make superb pleats or folds.
Beside its fluidity, rayon is an easy-to-dye fibre that retains its colour even after multiple washes. Plus, it's anti-static and breathable! If you want to expand your horizons and experiment with fabrics that are more difficult to sew, rayon is a good choice because it's much less expensive than other, more high-end fabrics like silk.
What can you do with rayon? 
Since rayon is a breathable fibre with low heat retention, it's ideal for spring or summer garments when the weather is hot and humid.
For clothing to wear during the colder seasons, we recommend a fabric made with a mix of rayon and another fibre.
Rayon fabrics can be used for a wide range of different garments: palazzo- or culottes-style pants, flared skirts, dresses, blouses and tops.
It's a good choice for loose clothing without many seams, whose suppleness will be emphasized by folds or pleats. Using rayon for fitted clothing is riskier, since it could stretch when the finished garment is worn. As a result, the fabric could crease and not revert to its original shape even after washing. This effect will be less noticeable in the case of loose clothing. When choosing a garment to make, you should also consider the fact that rayon textiles wrinkle easily.
Pants made with this material won't stay crease-free for the whole day. What's more, due to its suppleness and flexibility, rayon is less appropriate for clothing with certain details that require stiffness, such as a classic shirt collar. A rayon poplin, even with interfacing, won't have the same stability and rigidity as a cotton poplin. Its softness is what we like about it.
To inspire you, here are a few examples of patterns that would be perfect for creating garments with rayon fabric:
If you feel like it, share your own projects or discoveries on our various social medias using the #thefabricclub
*Please note that the availability of the products presented may differ from one store to another.