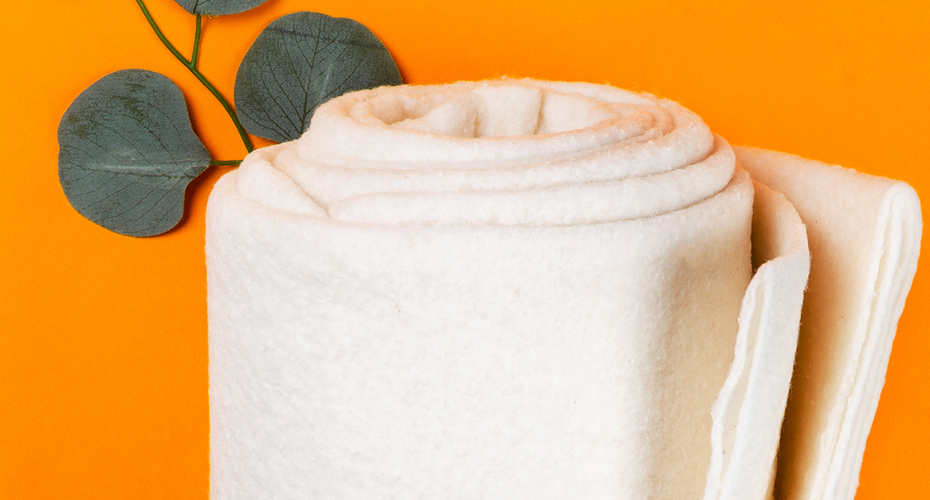 Everything to Know About Quilt Batting
You are done assembling your fabulous quilt and just about ready to visit us for some batting to complete this latest gratifying project? Suddenly, you realize that there is a huge selection and fear sets in… can I make the right choice between all those thicknesses, densities, fibres and colours?
How can I choose THE perfect batting to stitch the quilt of my dreams? Fear not! We have preselected the best quilt batting with the utmost care.
I'm thrilled about sharing all my secrets for choosing the perfect batting, both aesthetically and practically. Sit back comfortably and let me guide you. There is a lot of information, but you'll see that it's not that complicated!
Discover quilt batting on video! (French only)
In this video, Valérie shares her tips and tricks for selecting the best quilt batting to suit your taste and needs. After this video, batting will have no more secrets for you!
The most common fibres in batting are cotton and polyester, but there are many more options. You could also choose a wool or bamboo blend. Each fibre has its own characteristics and qualities. The batting is made of fibre blends? Great! It will basically combine the benefits of all those fibres!
Made of natural fibres, cotton batting is appreciated for its softness and suppleness. It's popular as it's warm and comfortable, and perfect for hand and machine stitching. Because it shrinks in the washer/dryer, it will give a much appreciated (by some quilters) wrinkled look. A freshly stitched quilt made with cotton batting could seem stiff at first, but after being washed a few times, it will reveal a nice supple draping!
Once stitched and after a wash, some cotton batting could bunch up inside the quilt. That's why you should keep with the minimum stitching distance recommended by the manufacturer. Even the most rebellious who love setting their own rules should trust me on this one and follow my advice.
Polyester keeps its shape and thickness better than other fibres and doesn't shrink in the wash. It's often the preferred option for people who suffer from allergies, as it's mould, moisture and dust mite resistant. Polyester breathes less than a natural fibre, but it pushes moisture outward, thus limiting the dampness in which dust mites breed.
Polyester batting is often denser than cotton batting, yet still light. It keeps warm minus the weight. It doesn't wrinkle because it doesn't shrink like cotton does, so quilting projects have a smoother appearance. We love to use it for wall hangings or to highlight the assembly of a complex quilt.
Despite its impressive volume that'll brilliantly showcase the complexity of your stitching, you'll be surprised to learn that wool batting is very light. It's also much appreciated for its warmth, generated in part by its bulky appearance. By trapping air in its fibres, it creates an insulating barrier that keeps the warmth inside. It's wrinkle-resistant and keeps its shape as it's resilient. Perfect for hand and machine stitching! You'll simply adore the voluminous and fluffy look of your quilt.
Wool is a natural temperature regulator. It provides a warm quilt for wintertime, and a light and fresh one for summertime. We love!
The challenge with wool batting is that, in addition to being a little more expensive, it easily goes through all small stitch holes. To limit the problem, I recommend using a sharp new needle when stitching. Also avoid using wool batting for quilts made with looser weaving fabrics as it will go through it more easily after a few washes, on top of all the stitch holes. Avoid using wool batting for very dark-coloured quilts, as light batting could be more apparent.
However, I must tell you something, yes you, fellow wool enthusiast! We quickly learn to deal with all those little annoyances, and we come to love wool so much that we start discarding every good recommendation and end up using it even with looser as well as darker fabrics. And we're OK with that.
Bamboo and Organic Cotton Blend
The blend of bamboo and organic cotton makes for an ultra-smooth and very breathable batting. It's said to be the high-end quilt batting. It produces an amazingly soft draping. This batting is very appreciated for hand stitching and is also excellent for machine stitching. Bamboo, like wool, is a more expensive option that is often used to create heirloom quilts, to be treasured for a long time.
Bamboo has antibacterial and absorbent properties. It's warm during winter and keeps cool in the summer.
Warning! Bamboo shrinks more than cotton. If you love super wrinkly quilts, it's perfect for you. I have a solution to avoid the high percentage of shrinkage of the bamboo batting and enjoy all its qualities. Before using it, soak it delicately for about 20 minutes, without stirring it, in a basin filled with hot water. Squeeze it gently by pressing with your hands then let it dry very flat. Don't put it in the washer before having assembled and stitched it and bound the bias tape, or it could come undone.
Batting Thickness or "Loft"
Now, let's talk batting thickness. As you can imagine, in quilting, "loft" doesn't refer to the apartment of your cool friend on Plateau Mont-Royal. The term refers to the fibre volume.
Rules are simple: the thinner the batting, the more the stitching will be flat and the more the whole creation will be showcased. The thicker and denser the batting, the more highlight will be on the stitching.
My own preference is always a thicker batting for more volume rather than overlapping layers. Unless your intention is to have a less smooth and more structured result, in that case, go ahead with multiple layers!
For hand stitching, precedence is given to thinner and smoother batting. A thin bamboo or cotton batting (3-4 oz) are generally the most popular for hand stitching.
Batting is generally found in three colours: natural, white and black. For a white, light or pastel-coloured quilt, we should use white batting not to affect the shine. However, a black or dark-coloured quilt will require black batting to accentuate the richness of the colours.
There's a somewhat debated practice where some will use black batting for a quilt with a lot of white. For a high-contrast quilt, with lots of really dark colours as well as lots of white for example, we can use black batting to avoid seeing the small threads of raw edges unravelling through light-coloured fabrics. Of course, the brightness of the white will be affected, but the black will be so much deeper that it'll compensate and create an impressive effect.
Unbleached batting, entirely natural, will please those who prefer minimal transformation of the cotton fibre. It's used with midtones and dark colours as it will have a tendency to make the very light and white fabrics appear yellow.
My last advice: have fun trying various batting to give your projects some personality, you won't regret it!