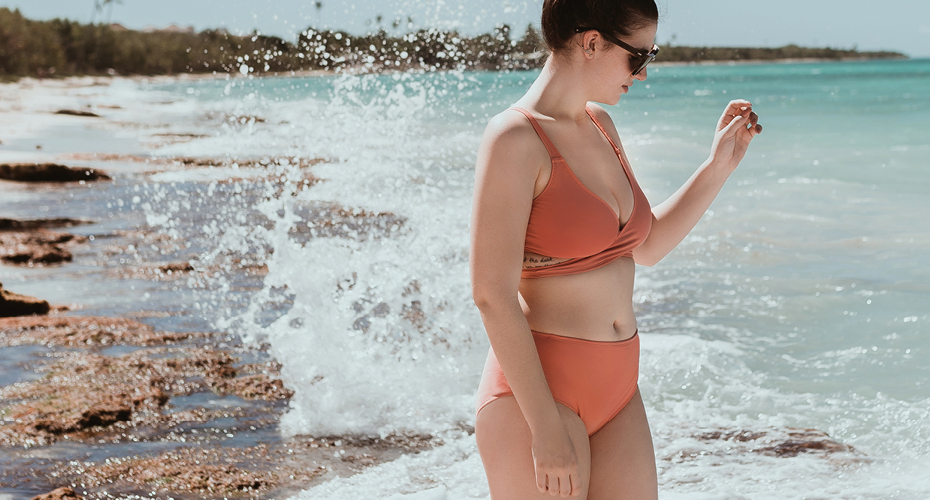 Everything you need to know before making your own bathing suit.
There's a lot of things to you need to know when it comes to the making of a handmade bathing suit. Here are some of our tips and tricks concerning what are the best fibers to use and also all the different accessories to use. To your sewing machine, because the bathing suits world will have no more secrets for you!
Properties and Fibers
Lycra®, Spandex, elastane; have you already heard these terms? It can be easy to get confused. Lycra® is a registered trademark of Dupont™ for the elastane fiber. It's a bit like a box of tissue we all call Kleenex! For more information, you can consult our article entirely dedicated to Lycra® (HERE).
When buying a fabric for your bathing suit, we suggest that you look for a fabric with a fiber component blend of 80% nylon and 20% elastane (Lycra® or Spandex). This fiber blend will allow your bathing suit to dry quickly, because it allows for a high hygroscopic property. The nylon fiber can also allow for a good resistance. Another important aspect to look for in your fabric is that it needs to have a good elasticity in all senses (4 sides). It can be stretched on its width, height, and on both sides of the bias. The big majority of fabrics made for bathing suits go through a process that allows them to be protected against discolouration and sometimes against UV radius and chlorine.
Maintenance
As for the maintenance, we advise you to wash your fabric in the washing machine on delicate, because you don't want to twist the fibers. Afterwards, it's important to hang your bathing suit to air dry. To preserve the fibers for as long as possible we advise you to rinse off your bathing suits right after getting out of the pool or the ocean to remove the salt and chlorine from the fabric.
Lining
It's important to choose the right lining when making a bathing suit. Two types are offered to you; nylon knit or polyester knit. Since it can only stretch in 2 senses, the elasticity of the fabric will need to be placed on the length of the body when it comes to one-piece bathing suits. For a two-piece bathing suit, you can use the elasticity on the width.
Lining is usually offered in beige or black. If you are planning on doing a white bathing suit, we advise you to take a lining with blueish colour to avoid seeing the aureole of the nipple once wet.
If you are looking for a lining that would retain shape and refines the silhouette, we advise you to line your bathing suit with a denser mesh.
Elastic
Depending on what you are looking for, multiple options of elastics are offered to you for the making of your bathing suit. Rubber elastic and transparent elastic have a chlorine resistance and dry very quickly. Flexible and easy to use, the cotton elastic, takes more time when it comes to drying. Another option would be the brushed elastic, which as a kind of fluffy upper side. When it comes to its installation, you can simply sew it to the lining, while keeping the fluffy side against the skin. When sewing the elastic for the contour of the bathing suit, we suggestion that you calculate 1/8 less than the desired part you want to cover. If you don't own a Coverstitch sewing machine, you can simply sew the elastic with a zigzag stitch.
Cups and Hoops
First off, you need to know that cups and hoops come in different shapes and sizes; half bust or full bust. Made from nylon the cups dry quickly and are easily adjustable. It's possible to cut them yourself to get the perfect shape for the bathing suit shell. Soft on the skin, the cup also allows the chest to appear fuller. If you want more support, you can add hoops to your bathing suit. Whether you are making a one-piece or two-piece bathing suit, the hoops should never be directly in contact t with the skin. That's why it is necessary to make a hoop cover. We suggest sewing it flat, that way the hoop will slide in more easily.
Now that you have all the tools to make your own bathing suit, we suggest that you go consult our other article where we give you some of our tips and tricks when choosing your next bathing suit style (HERE). Enjoy!
Do not forget that we love to see your creations. Feel free to share them with us through social media, using the hashtag #clubtissus.
*Please note that the selection presented may vary from one store to another.