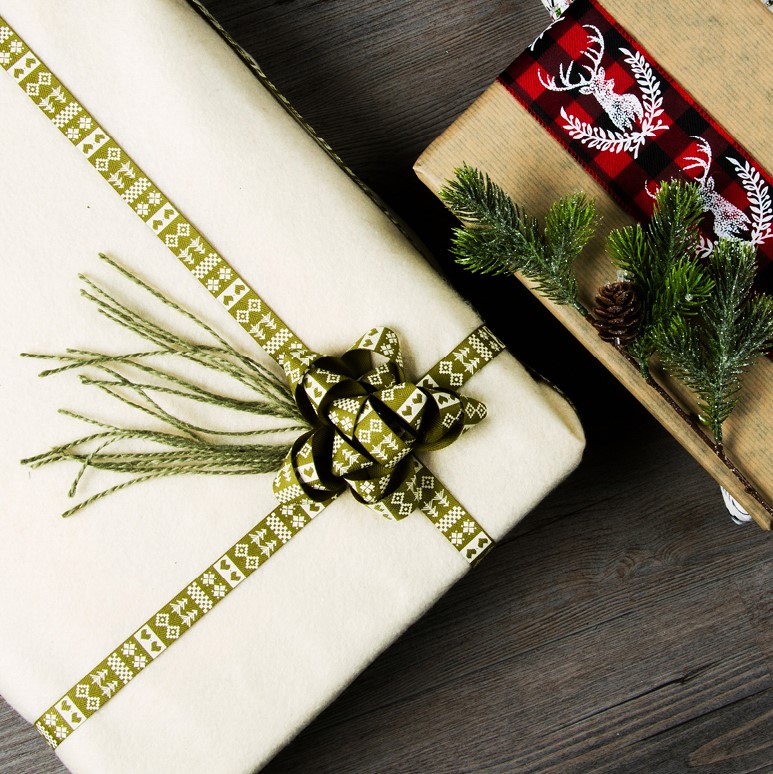 Last minute gifts ideas !
My Christmas tree is done and it only needs to be filled with gifts. As the big day arrives very quickly, I made you a list of gift ideas to make your life easier to spoil the seamstresses around you. It's been several years since sewing items are part of my long wish list, so here are my secrets.
1. SEWING DISPLAY
For a few years now, I have accumulated threads by the dozen without really knowing what I had, because they were all gathered in a drawer. When I moved and made a real sewing workshop, it was obvious that a sewing display would be proudly installed on my wall. I cannot do without it now. My guilty pleasure; spend my Sunday afternoon placing my colours! Besides being practical, it becomes a decoration (I have not yet convinced my boyfriend of this fact).
2. SEWING BASKET
A sewing basket is a must have. We can put away all our little sewing stuff to make everyone believe that we can keep our sewing space ordered. My sewing basket was my best friend but during my 3 years of fashion design in College, it took a little dust. In January though, it will come back in my life for my quilting classes and my Sunday mother-daughter sewing afternoon, which I put in my list of resolutions.  I will make sure that I keep this one!
3. OUR KIT
My colleagues and I worked on this project over a year ago, but we still love it so much. This kit allows you to equip yourself with our essentials while saving money. Offered for beginner classes, this assortment of 11 accessories will fill the sewing box of your favourite seamstress. You can see what's inside right here!
4. BOOKS
Who doesn't need some inspiration once every so often? For that reason, books are an ideal gift!
Here is the first sewing book I had, offered by my grandmother. It is a basic sewing book that explains everything very clearly. I open it to refresh my memory on a technique, an indispensable work.
The second is my favorite of the moment, a book that includes several types of needlework. A little Bible for those who cannot choose a single type of project.
Finally, I began to learn to knit in the last year and what's better than a book that offers ideas for quick projects to achieve with a single ball of wool. A great idea, from you to you, to make your last Christmas presents.
Visit our online selection, it is full of rare gems on sewing, knitting, embroidery and more
5. KNITTING NEEDLES KIT
I allowed myself to incorporate an idea of ​​knitting gifts because we have a very nice selection of knitting and crochet needles on our website. An essential set for both experts and beginners, and that will make all projects now possible. A gift that will make your sweetheart knitter's eyes shines.
6. DRESS FORM
I have long dreamed of my beautiful red dress form, I kept a special place for it, in my studio. I remember Christmas day, when I was 20 years and I got to unpack this huge gift. I was 5 years old all over again in front of this huge object. This model, adjusted to my size, allows me to adjust my creations without having to try to do it directly on me, a real charm.* Club Tissus is not responsible for the tears and shouts of joy caused by this gift.
7. SCISSORS
A good pair of scissors is an essential accessory of any seamstress. My new love (my Kai scissors that I offered myself for … no reason, we can spoil ourselves once in a while!) has its place of choice in my studio. I cherish it every time I have to cut something, always surprised by its incredible efficiency. So you understand my great love for this model. Several other scissors options are possible, such as those for embroidery or serrated edge scissors, the choice is infinite. I invite you to read my other article that will enlighten you on the right choice of scissors for you.
8. SMALL CHRISTMAS SOCKS FILLERS
My pretty Christmas stockings now installed! What better than small practical and fun accessories to fill them up, because yes, at home, we are several seamstresses! Here's what I'm thinking of filling my seamstress stockings with.
The retractable measuring tape is a must to add in your handbag for your next visits to Club Tissus or to hide in each of the drawers of the house, because you never have enough measuring tapes. Its compact size is ideal! Here's the link to see all of them.
The thread cutter is often lost between two projects, so we can't say no to a new thread cutter to add to our collection. We offer you a new selection of colourful models here.
Finally, my best friend of all, the ripper. He's the one who manages to fix all my little careless mistakes. My heart goes to the ergonomic prym ripper.
9. A CUTTING BOARD, A CUTTING RULE AND A ROTARY KNIFE
The rotary knife is the new chisel of 2017! In January, I will take a quilting initiation class, so it goes without saying that the cutting rule is on my list this year, to complete my kit. The quilt does not have to be your main activity to adopt the rotary knife. I love using my rotary knife for precise cuts or cutting thicker fabrics like felt and leather.
10. CLASSES
It goes without saying that we always like to improve ourselves. A class at one of our partner's sewing school is a must once again this year! Whether it's knitting, a quilting or a beginner's sewing class, this gift will surely make someone  happy. Courses vary from one store to another; visit our website to contact our various partners for more details.
As you know, I love Christmas and it's hard for me to refrain from giving gifts! I hope this top 10 has helped you! If in doubt, be aware that gift certificates are also a great option. They allow your seamstress to choose exactly what she wants.
I want to wish you a quality holiday season surrounded by those you love most. That's what really matters! See you in January for lots of new projects!
See you soon!