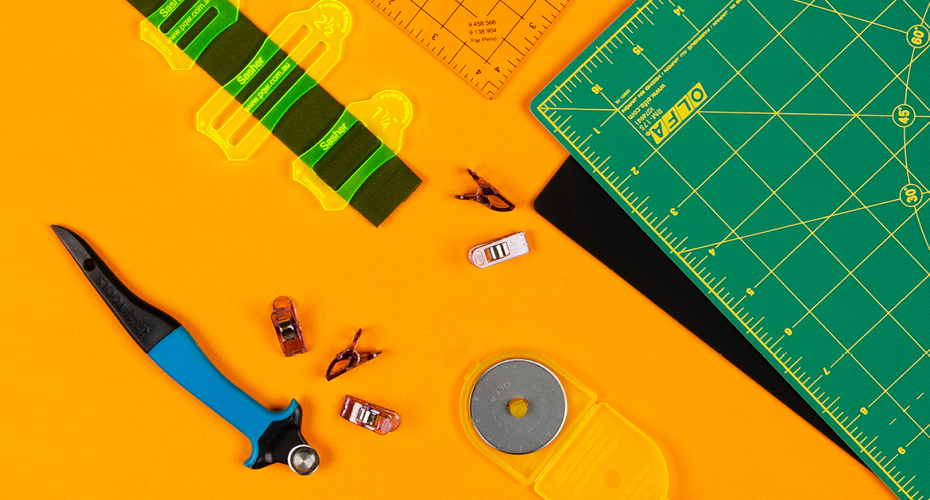 Our favourite quilting accessories!
In the wonderful world of quilting, there are a variety of accessories available to realize all your wildest projects!
Whether you are making a mini quilt, a baby throw blanket, or a wall decoration, here is the list of all our must-haves you need in your sewing kit for any quilting projects. Little items that will simply make any quilting project possible… All you have to do is to let your imagination run wild!
Olfa ruler frosted 6 in x 24 in
The first must have on our list is the Olfa ruler frosted 6 in x 24 in. Lightly frosted, its black lines allow you to see perfectly through and cut your pieces with great precision and this, whether on light or dark fabrics. This acrylic ruler is slip-proof, light weight and durable. Its size allows you to cut large pieces in one cut, without having to move the rule and risk missing your perfectly straight lines.
Olfa rotary cutting board 17 in
What's better than being able to cut out the entire borders of your piece without having to move your fabric?! This is exactly what the Olfa rotary cutting board allows you to do! Its slip-proof back prevents the board from wandering on your cutting table while it pivots on itself. In addition, its surface is made to self-heal, which gives, obviously, an added value to its quality!
Olfa cutting board 24 in x 36 in
The Olfa cutting board is perfect for all quilting projects! Used hand-in-hand with the rotary knife, it is a staple for every sewing room. I have no doubt that it will allow you to create big and small quilting projects! This cutting board is reputed for its self-healing quality, as well as extending the life of your rotary knife blades. Its 24 in x 36 in size allows you to cut large pieces without having to move the board under your fabric and having to put everything back. The measurements are graduated in inches and centimeters, so you are free to use the unit of measurement you prefer!
Olfa ergonomic rotary cutter 45 mm
Trying it is adopting it! Combined with the Olfa cutting board, the ergonomic rotary knife allows you to cut precise lines without lifting the fabric like you would with a regular pair of scissors. The shape of the handle is made to be very comfortable for the hand, so you can cut a ton of pieces without getting tired! It can also be used to make fancy cuts, by simply using a wave or pinking blade instead. A little practical plus, is that it has a lock that can block the blade in use or its retracted position… Safety above all!
Olfa rotary blades 45 mm – set of 5
With high quality steel blades, we are always sure to be well equipped! Olfa blades are strong and durable. They cut wonderfully a multitude of subjects; fabrics, leather, vinyl and more. Offered in a pack of 5 blades, you're sure to never miss it and one project will not wait for the other!
Precision quilting tools rotary cutter
This is our newest arrival! This knife with a 14 mm rotating mini-blade has instantly made his way as a must have in our sewing kits. This tool is more than perfect to add a little "je ne sais quoi" to your quilts (and many other projects!).The blade changes position, allowing both right-handed and left-handed people to use it easily. Its handle is curved just the right way, so you can hold it like a pencil. You will want to use it again and again, especially because of its lightweight.
Sasher bias tool – set of 10
This little tool that looks like a strap loop is simply magical and might be at the top of our team's favourite list! Strips of fabric are threaded to create different bias and inserts for the realization of your quilts. It is designed to make multi-width bias strips for the outline of your quilts, for Celtic appliqués and patterns, for different strip insertions and can also be used for the Quilt As You Go technique, which allows you to customize your projects easily. In addition, it is also designed so that you don't burn your fingers! I must admit that I can't live without it from now on!
Quick quarter ruler – 12 in
If you don't know this little quilting ruler yet, I'm sure you won't be able to resist buying it once you've tried it. This ½ inch wide ruler has slots in the center. It is a perfect tool for making ¼ inch stitching values on a diagonal of a square.  The slots are used to mark a guide line to cut your pieces and create triangular blocks, half-squares and the flying geese technique. It pr9ovides flawless precision and makes your quilting blocks a success.
I hope we made you want to start your first (or next) quilting project! You now know all our teams secret tools to achieve the best quilt ever.
We would love for you to share with us your projects, current favourites and discoveries on our social media platforms, by using the #clubtissus.
*Please note that the availability of the presented products may vary from one store to another.