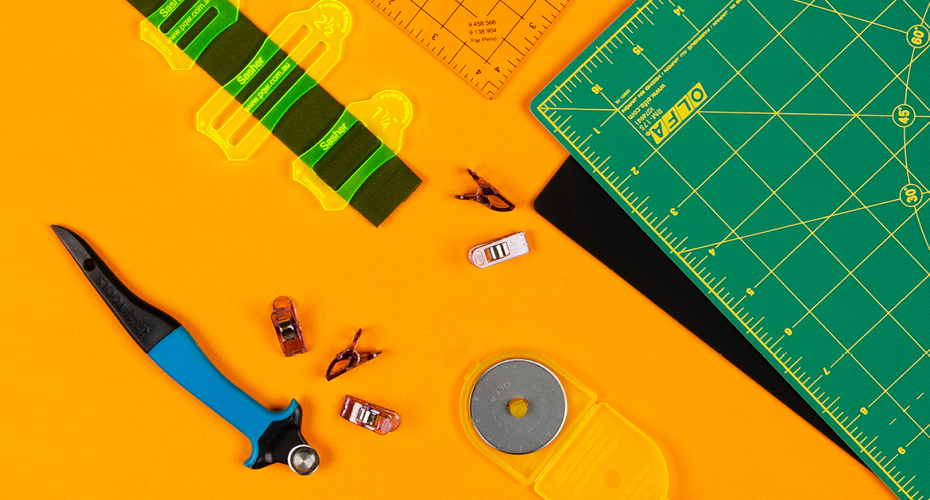 Our Favourite Quilting Accessories!
T

he wonderful world of quilting

 comprises

 an array of accessories for loads of projects!

 
Here is a list of musts you should have in your sewing kit, whether to create a mini quilt, a throw or even a large-scale wall hanging. They're our best picks that can help make any quilting project possible… Then all you'll have to do is let your imagination go wild!  
Our first must-have is the Olfa 6 in x 24 in ruler. Lightly frosted, with black lines, it's perfectly see-through for great precision on both light and dark-coloured fabrics. Anti-slip, made of acrylic, it is strong, durable, yet very light. Its size allows for the cutting of large pieces in one take, without having to move the ruler, and risking your nice straight lines. 
Is there anything better than being able to cut all around a piece of fabric without having to move it?! Well, that's what the rotary mat by Olfa does for you! Its non-skip backing prevents it from moving around on your cutting table, and the top part rotates as well as self-heals, which is, obviously, an added value! 
The ideal cutting mat for all quilting projects! Along with the rotary cutter, this sewing kit tool will undoubtedly help you with all quilting projects, big and small! It's well–known for the quality of its self-healing surface, which contributes to extending the lifespan of your blades. Its size is perfect to cut large pieces without having to move the mat under your fabric. It is graduated in both inches and centimetres, so you can choose the measuring unit of your liking! 
Try it, and you'll love it! Combined with the Olfa cutting mat, the ergonomic rotary cutter helps cut clean lines without moving the fabric unlike regular scissors. The handle has a comfortable shape so you can tirelessly cut tons of pieces! It can also be used with serrated or undulated blades for special cuts. A very practical little extra: the safety lock allows for the blade to be locked while in use or locked inside the handle … safety first! 
With high-quality steel blades, we're always well equipped! Olfa blades are strong and durable. They flawlessly cuts through various materials; fabrics, leather, vinyl and much more. Sold as a set of 5, you are sure never to run out and you'll go through one project after the other! 
The Flatter is a starch-free smoothing spray that loosens wrinkles and refreshes fabrics leaving them smooth, soft and static-free. This Canadian product is made with ingredients of plant and renewable origin. With or without odor, it is suitable for sensitive skin and does not harm the environment. Le Flatter est un vaporisateur lissant sans amidon qui relâche les plis et rafraîchit les tissus en les laissant lisses, doux et sans statique. Ce produit canadien est fabriqué avec des ingrédients d'origine végétale et renouvelable. Avec ou sans odeur, il convient aux peaux sensibles et ne nuit pas à l'environnement.
Hand washing will be so easy with Soak. Just let soaks for at least 15 minutes and wring it out gently. As easy as that! Environmentally friendly, it will leave a sweet scent on your garment. It's perfect for your quilts, for your lingerie, baby's clothes, swimwear and all your other favorite pieces of clothe.
The "new tool on the block" is here! This 14 mm mini rotary blade cutter has earned a special place in our sewing kits. Wonderful to work with, this tool is beyond perfect to embellish your quilts (and several other projects, let's be honest!) with tons of appliqués. The blade switches position, which allows right and left-handers to easily use it. Its handle is curved to be held just like a pen. We love its light weight. You'll want to use it again and again! 
What looks like strap sliders is pure magic and won the heart of the whole team! We've adopted it the minute we laid our eyes on it. Fabric strips are fed through to create various bias tapes and insertions. This tool helps customize your projects in no time, for the finishing of your quilt's outskirt, strips insertions, appliqués, or the quilt-as-you-go technique, among others. Also, it's designed so you don't burn your fingers as you iron! I must admit I can no longer do without it! 
If you don't already know about this small quilting ruler, I'm convinced you won't resist once you've tried it. This large ½ in ruler has a slotted centre. It's a perfect tool to mark the ¼ in seam allowance on the diagonal of a square. Marks can be made through the slot to cut your pieces and create triangle, half-square and Flying Geese blocks. It brings flawless precision and allows to create perfect quilting blocks. 
These curved safety pins are used for sewing, stitching and crafting. They help basting your quilts easily and ensure that layers won't move. Contrarily to traditional straight or safety pins, they keep your quilt flat while stitching for a flawless professional finishing. 
For clothing, accessories, home decor or quilting, these small clever clips ease the assembly of a multitude of projects! The sturdy spring holds fabrics tightly, quickly and easily. it's another solution for the pinning of quilts, heavier fabrics, leather, vinyl or other projects with several layers of fabric. A must also for the assembly of sleeves, welts, bias tapes and much more! The clips are graduated, easy to use and to remove when sewing or serging. Believe me, these will be keepers in your sewing workshop. 
This cartridge pencil will be your go-to tool for the marking of your cotton fabrics! The 0.9 mm lead is made with water-soluble dyes and ceramic specially formulated for fabric, ensuring its sturdiness. The fine white lead is ideal to precisely mark midtone and dark fabrics. Refill cartridges can be purchased in various colours for every colour of fabric possible. The sleeve is designed for more comfort and has an eraser at the tip for little touch ups. 
I hope this inspired you to start your first (or next) quilting project! One thing is for sure, you now know what the Club Tissus team loves to play with.   
Our best quilting accessories on video!
Available in french only. 
In this video, Caroline presents our favourite quilting accessories and explains how they work to help you carry out your projects!