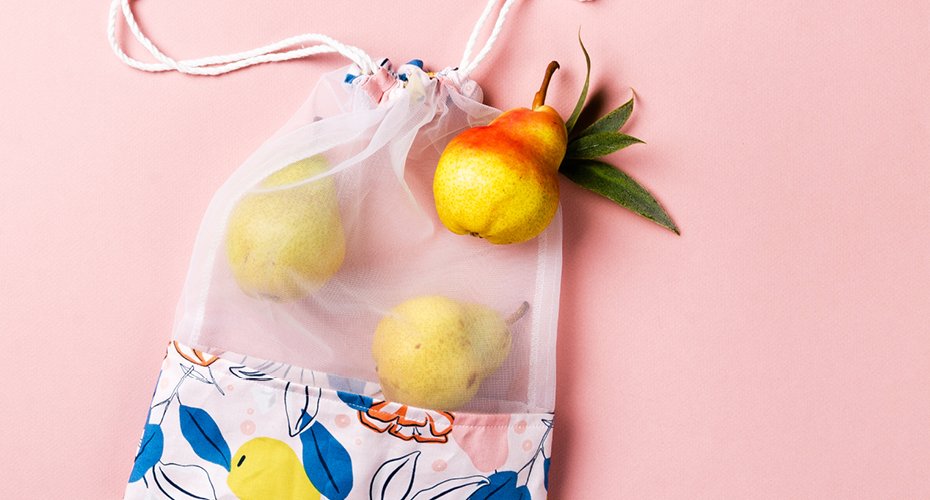 Reusable fruits and vegetables produce bags
Am I the only one who accumulates all the small fruits and vegetables grocery bags under my sink, in the hopes of finding a purpose for them someday? I quickly dropped this idea and now opt for reusable produce bags. Easily realizable, this project will make you feel like you are helping out and doing your part for the environment!
Here are other zero waste projects that will help you waste (a little) less!
Natacha Créative tested our free reusable produce bags pattern! (Video in french only)
Want to make your very own fruits and vegetables bags just like the ones by Natacha Créative? Get the brand new DIY box that includes all the necessary materials to make them.
Level of difficulty : Easy. Basic sewing machine skills required.
Time required : About 30 minutes each
Sewing value included: 1 cm (3/8 in)
Leave us your email address to get the free pattern.
In the optic of making this project even more eco-friendly and since the pieces required are quite simple to create, either make rectangles or squares, we suggest not printing out the pattern in order to avoid wasting paper.
Here is our fruits and vegetables bags pattern with a sliding cord system for closing the bag as well as the bottom made of cotton. So you can play with these options to create your perfect bag according to your needs. Play with the different slide cord systems, formats and cutouts to make your next grocery shopping a little more eco-friendly and fun.
What you need to cut :
2 rectangles of 26 cm (10 ¼ in) by 23 cm (9 in) of 

Venice 

nonfusible

 

mesh

 

1 rectangle of 26 cm (10 ¼ in) by 22 cm (8 3/4 in) of cotton

 

2 

strips

 of 6 cm (2 3/8 in) by 28 cm (11 in) of cotton

 

2 cords of 30 cm (11 ¾ in)

 
STEP 1 : On each side of the 26 cm (10 ¼ in) cotton rectangle sew a piece of mesh facing. To avoid fraying, we also suggest making an overlock stitch or a zigzag stitch. Then fold down your seam allowance towards the cotton fabric and make a topstitch to solidify the seam.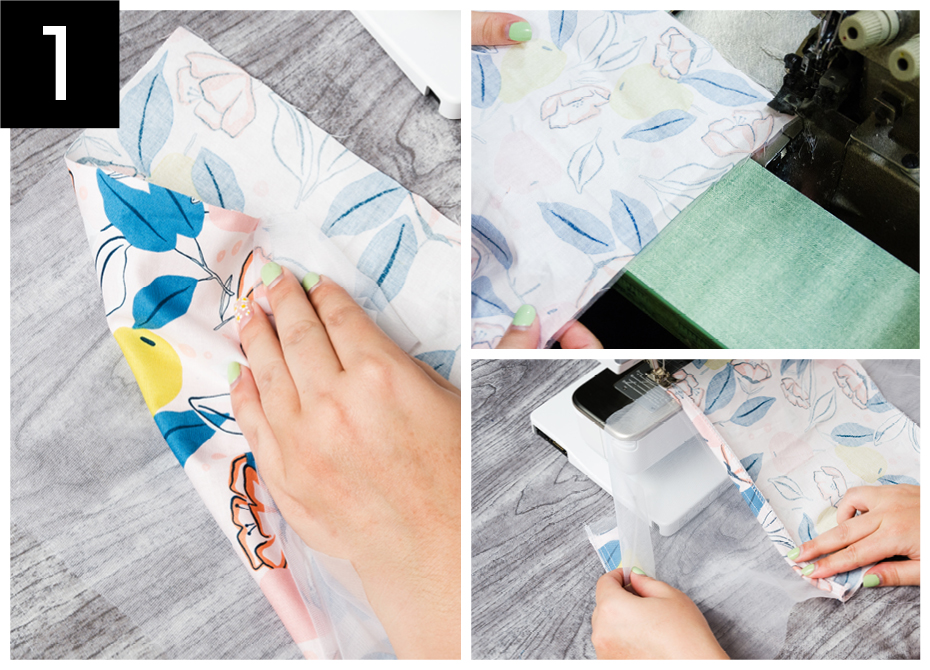 STEP 2 : Start by folding each end of the strip twice and topstitch to create a nice finish. Then fold the strip in half, with the pattern facing up.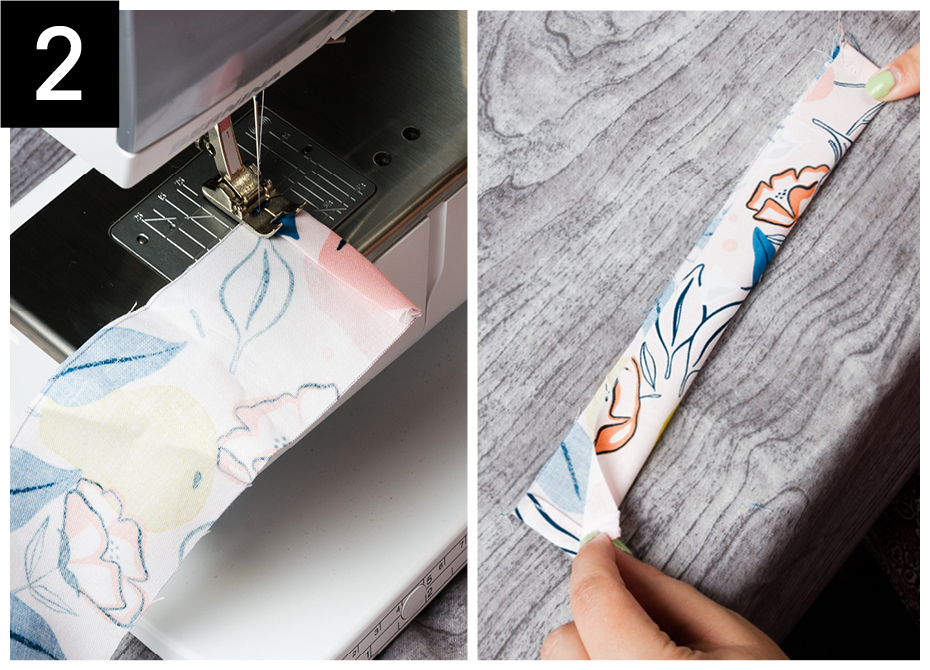 STEP 3 :  At each end of the mesh facing rectangle, install a strip, making sure to leave 1 cm (3/8 in) on each side. Sew and overlock for a clean finish. Then fold down the seam allowance towards the cotton strip and topstitch.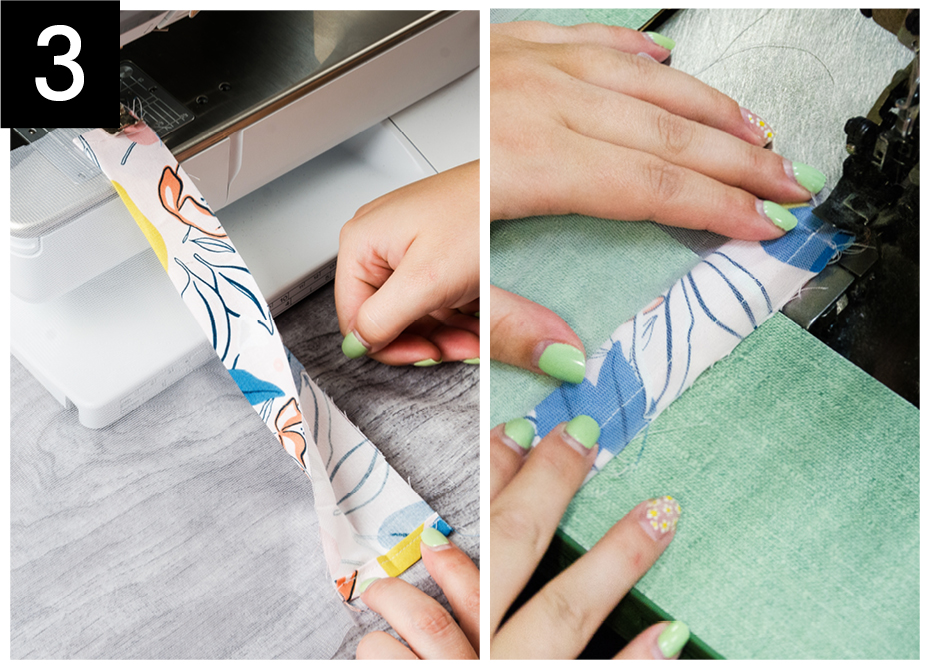 STEP 4 :  Fold your bag in half, with the right sides facing each other, making sure the cutouts are aligned. Then sew the two sides and overlock for a nice finish.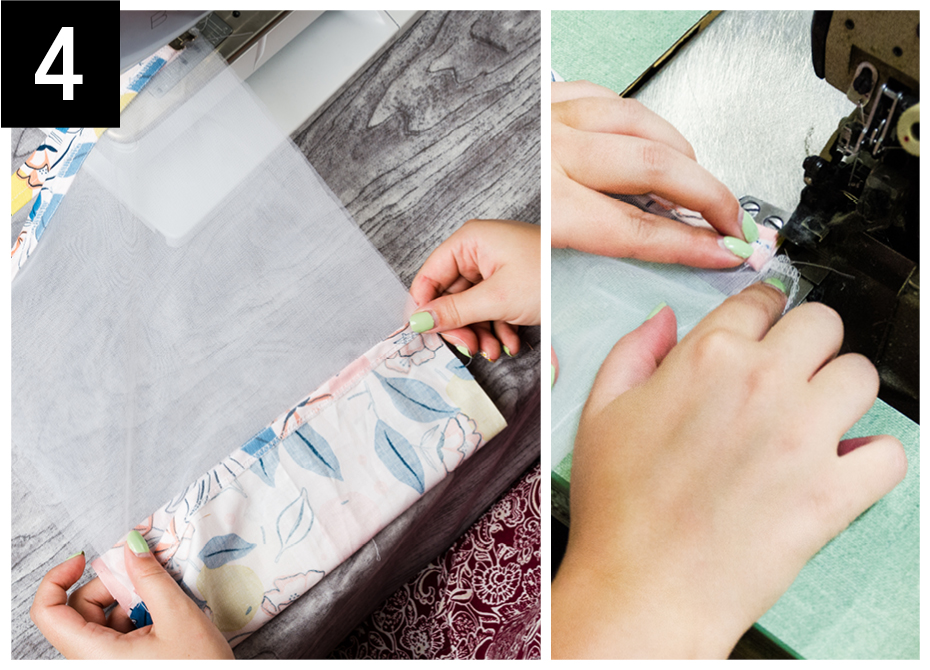 STEP 5 :  Install the cords by inserting them in the two cotton strips and then joining the two ends with a knot.