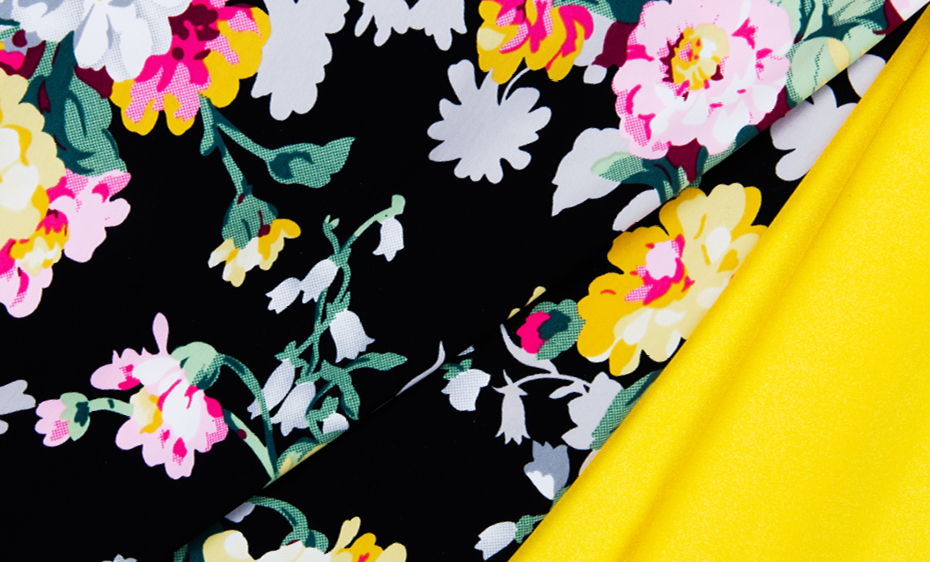 Spandex
Contrary to popular belief, lycra is not a fabric type. It's rather a registered trademark of the DuPont TM company to define their own Spandex fiber, also known under the name elastane. It's not a miracle product… but its close! This synthetic fiber is known to stretch up to 7 times its length and take back its form immediately.
It's important to know that a fabric will never be 100% Lycra® or that a Lycra® fiber never comes alone. Indeed, a Spandex yarn is always recovered with a different fiber, like nylon or polyester. Spandex is way too fragile to be used alone in a fabric.
The fabric that we call Lycra® is in reality a knit with a blend of Spandex and one or multiple fibers. It differs from other knitwear because of its highly elastic fiber component that can go up to 40%.
We appreciate Spandex for its soft to touch feel, its ability to retain its original appearance and colour, that it's silky, comfortable and for the fact that it doesn't wrinkle. It's very important to note that it was created to have an excellent resistance even when wet and dry. Therefore it resists longer to damages that can be caused by water, chlorine, acids, mould, bacteria and the sun.
Its origin
In the past, underwear and corsets were made of rubber. The results were costly, hard to work with and could cause skin irritation. A team of scientists wanted to find a product that would replace this rubber. The arrival of Spandex allowed clothes to adjust to every shape with comfort and offers a freedom in movements, all at a lower cost. For example, in the sixties, Lycra® revolutionized the bathing suit industry. It allows them to be much lighter, slimmer and above all to dry faster. In the seventies, the popularity of skinny jeans and leggings increase with the introduction of Spandex into these type garments. Nowadays, Spandex is found in the majority of our garments, and the Lycra® brand doesn't stop growing by developing other products that are more and more performance.
Its uses
Given all the advantageous properties that they offer, the enriched Spandex fabrics are very popular. In fact, it constitutes a large part of the ready-to-wear garments. Spandex is therefore found in both knitted and woven textiles, with a percentage varying between 2 and 40%. Its addition to the composition allows the fabric a better elasticity, a better hold, an optimized comfort and a lower level of wrinkling. A good example is the popular skinny jeans; it's even rare today to find jeans without elastic fibers in its composition.
As for the Lycra knits, we use them mostly for everything that needs a high extensibility and a good resistance: bathing suits or gymnastic uniforms, sports clothes, leggings, socks and tights, etc. The Lycra knit is generally offered in a large range of colours and patterns, of prints and textures.
How to maintain it
For a fabric with a low percentage of Spandex, we advise you to simple maintain it according to the main fiber. However, you should avoid drying it in the machine.
For a fabric with a high percentage of Spandex, like the lycra knit :
Machine wash in cold water
Do not use bleach, softener or grease
Do not tumble dry
If necessary, iron at low temperature without steam
Dry cleaning
To remember
Spandex is a fragile fiber. The more your fabric contains Spandex, the more it's important to maintain it with care; otherwise it could cause premature damage to your fabric. You will then notice that the little broken Spandex fibers will poke out like small hairs!