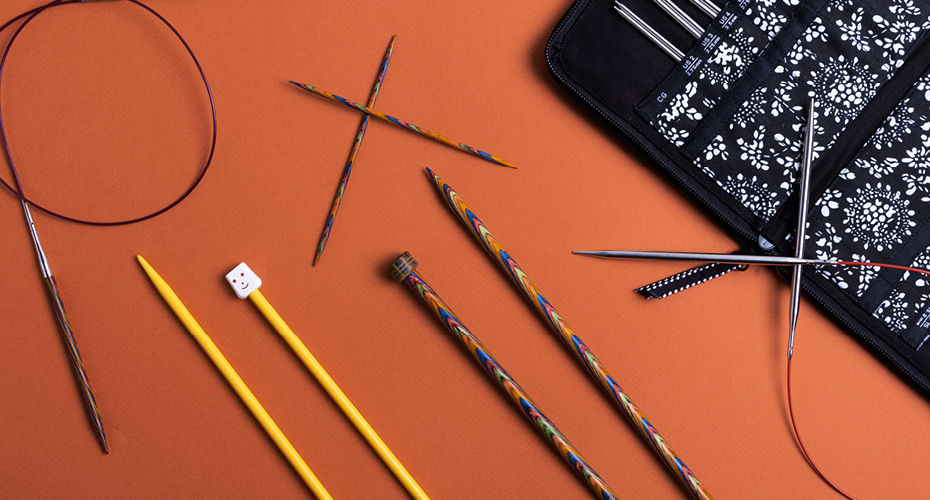 The different types of knitting needles
When you start knitting, it's sometimes hard to navigate all the types of needles available. What size needles should I use? What material is best for me? What does DPN or circular needle mean?
Here is a short guide to help you understand what the different types of needles are used for, what materials they are made of and how to choose the right ones for your project.
First, there are three types of knitting needles:
Straight needles are the "classic" needles. They're used to make flat knitwear (scarves, for example) or round knitwear, whose parts will be assembled (sewn) together at the end of the project (a round scarf, slippers or a sweater, for example).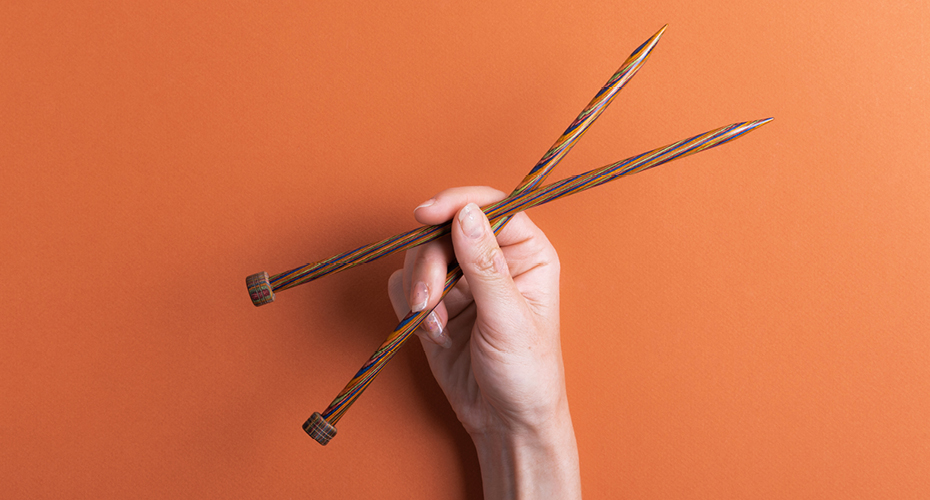 Advantages:
Easier for beginners to use.
Often inexpensive and easy to find.
Disadvantages:
They can be cumbersome; not as easy to carry around.
It is sometimes difficult to knit large projects (needles are too short).
When knitting large and heavy projects (a blanket, for example), the weight of the wool is entirely on the needles, which ends up putting pressure on the wrists and can be uncomfortable.
Double-pointed needles (DPN)
These needles are used for knitting in the round (mittens, hats or socks, for example) and can also be used as a cable needle when making twists and other patterns.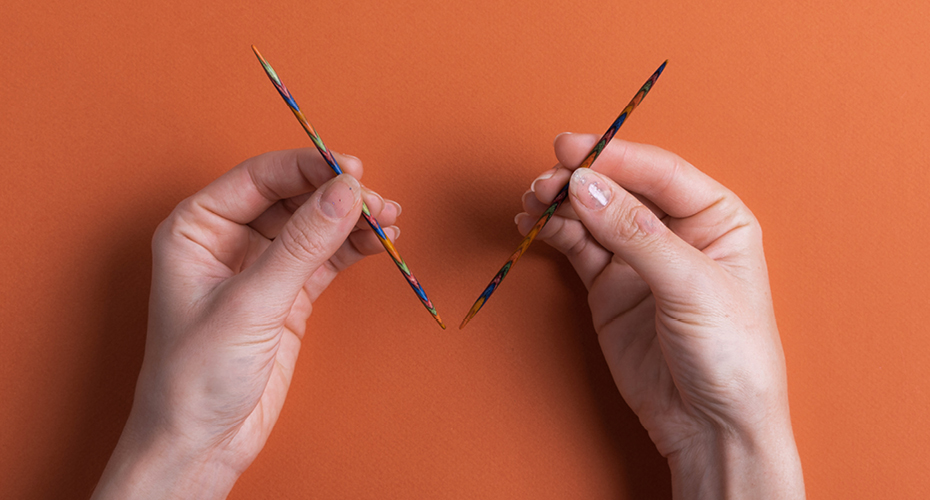 To use them, divide your stitches on three or four needles to form a square or triangle and then knit the stitches on each of these needles.
Advantages:
Small and easy to carry around.
Traditional method of knitting in the round.
Disadvantages:
More likely to create holes or "ladders" at needle junctions.
Not practical for carrying around an ongoing project, as stitches may fall out.
The technique is more difficult to master.
Circular needles are needle tips attached together by a cable, allowing you to knit in the round… Or not! You can also knit flat projects with these needles.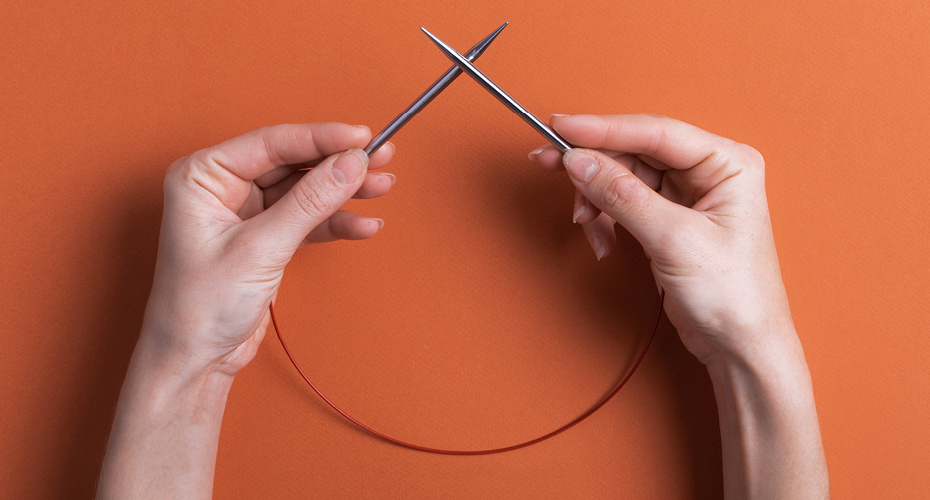 There are two types of circular needles: fixed and interchangeable.
Fixed needles are needle tips that are permanently attached to a cable of a certain length.
Interchangeable needles are needle tips and cables that can be connected together based on needs; for example, you can have one cable and several different sizes of needle tips that can be switched out depending on the project.
Advantages:
Can be used to knit flat or in the round.
Easy to carry, not too cumbersome and much less chance of losing stitches.
Only one or two junctions when knitting in the round, so less chance of having "ladders" in the knitting.
Interchangeable circular needles are economical, as you only have to buy the needle tips needed for your project and you can reuse the same cable.
Disadvantages:
There are big differences in the quality of these needles. Make sure to select a brand that has smooth joints between the cable and needle, as well as flexible cables.
Some people don't like to use the Magic Loop technique for small projects.
When buying circular needles, I suggest that you always get the longest needles possible (80 to 100 cm) and use the magic loop technique. This technique is very easy to use and eliminates the need for double-pointed needles, even for very small projects! Whenever you see a pattern that requires you to use double-pointed needles, you can replace them with circular needles using the magic loop technique.
*** Video in french only ***
Once you've decided what type of needles to use, it's important to know which material is best for you. Knitting needles can be made of many different materials; I'm only going to tell you about the most popular ones.
Wooden needles are perfect for people who knit loosely, because the wood "clings" to the wool and prevents it from slipping. They're often very pretty because manufacturers play with colours. They also often have a very nice texture for knitting.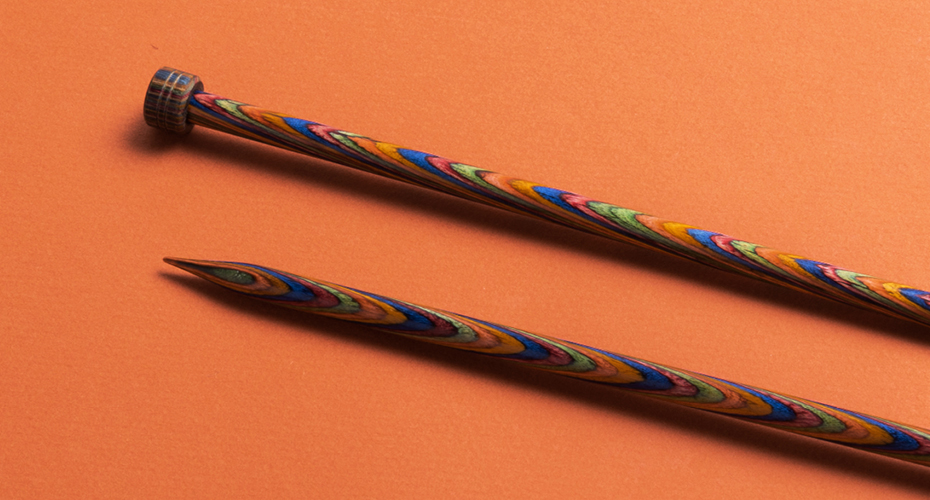 Bamboo needles are similar to wooden needles in that they "cling" to the wool. They are lighter, but not as strong. They often wear out very quickly and leave small pieces of wood in the knitting, so they're not very durable. This is why we don't carry bamboo needles at The Fabric Club.
Plastic or acrylic needles
Plastic and acrylic needles are pretty similar. They're lightweight and often sold in all kinds of colours. They're relatively strong, but over time they can become brittle and break. Models for young children are often made of plastic.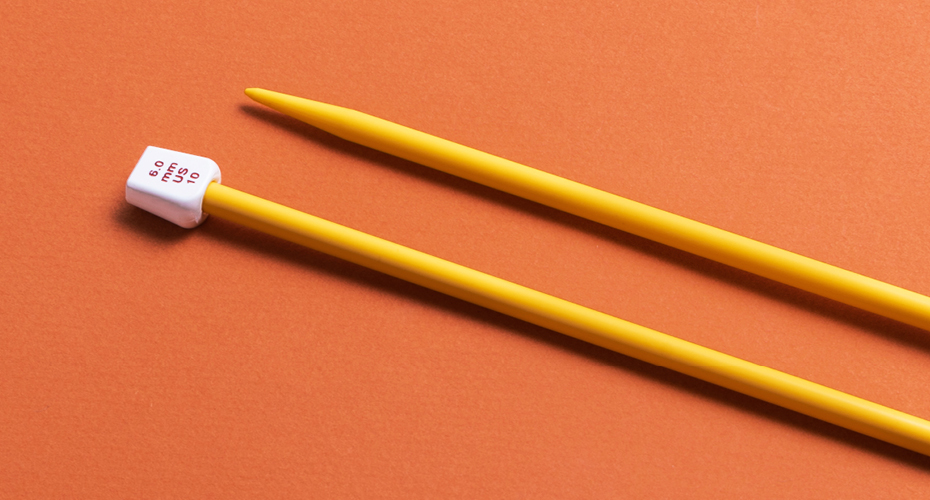 Several types of metals can be used to make needles (stainless steel, nickel and aluminum, for example). Metal needles are perfect for people who knit tightly, since they glide better on wool. They often (but not always) have slightly sharper tips, which is practical for small yarns or lace stitches. They are very light, durable and, above all, strong.
If you want to invest in needles that will last you a long time and that will work for any project, metal needles are probably the best option.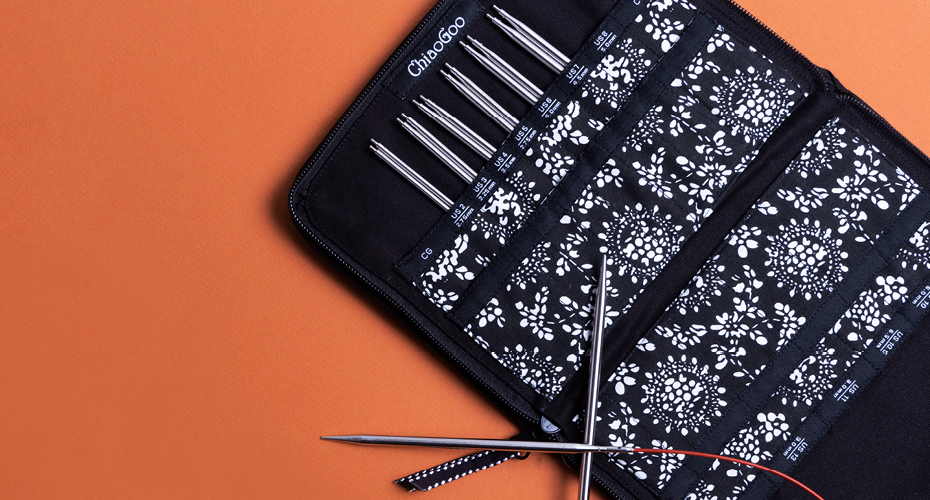 In short, there are no hard-and-fast rules. Choose your needles based on how you knit (tightly or loosely), your project and, most importantly, your personal preferences. If you want to buy several needles, I suggest interchangeable needle kits, because you'll have a variety of sizes that can work with all your projects.