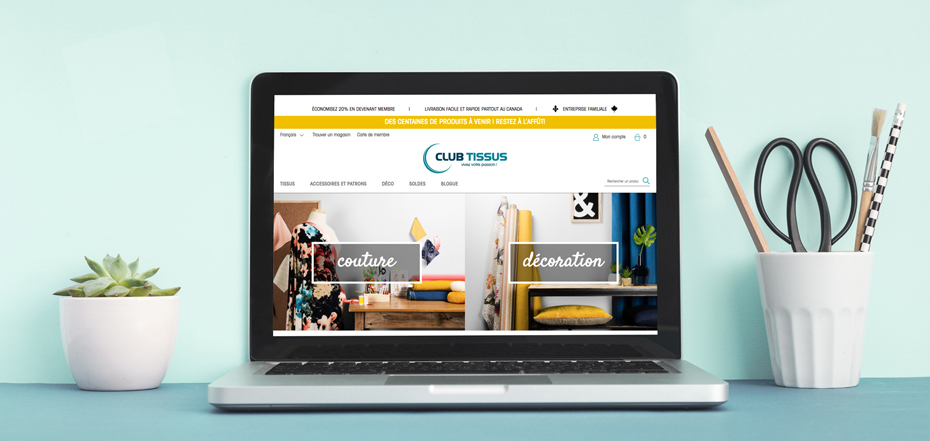 How to use the website at its full potential!
You've been waiting for a long time, and the time as finally come! Our new web site is (FINALLY!) available. We put a lot of time, our hearts and our energy into this project. It's a constant work. You will see new arrivals frequently added to our site. Here is an overview of the various functions we have implemented to facilitate your overall experience !
Matching Thread Service
We absolutely love this function! Like in store, we wanted to bring you the complete Club Tissus experience. The idea of ​​this function is that you can choose the type of thread you need and let one of our experts chose the perfect match for you. When your order will be getting packed, one of our experts will take your fabric with which you want to harmonize the thread and will validate the colour according to what you have indicated in the comments. That way, you will be sure of your choice!
Don't hesitate to use this service and leave us as much detail comments regarding what you are looking for in your arrangement.
Filters
Are you familiar with online shopping by filters? It's a fast and easy way to get a more precise result on your search. We know that you are offered with a lot of options, and sometimes it can be frightening venturing through them, but trust us, they will be of great use. It will allow you to see patterns according to the project you want to achieve, no matter the brand. You can also find fabrics according to the colour and/or to the pattern that you desire. This function is also available for the home decor section. Whether it's for fabric, ready-made curtains or any creative projects, you will be able to target your search and only see the corresponding items.
This function is only a research tool. You can have fun discovering each category to see all our selection!
Matching Board
This function is our second favourite! Once again we wanted to bring you a similar experience to the one in stores, so we created a matching board. It's a bit like our cutting tables on which you can lay out your fabrics to validate your colour and pattern selection.
This function is only available for clubtissus.com members, so don't forget to connect or create an account to get all sorts of benefits!
Once you arrive on the matching board page, the fabrics that you had previously chosen will be in the grey section at the top of the page. You can move them to the white section by clicking and dragging your mousse. If you press the little + sign in the right corner, you will gain access to multiple options. You can add the fabrics to your cart, by pressing on the shopping cart icon. If you press on the eye, you will be redirected to the product page, where you can change the desired quantity. Finally, if you press the garbage can, the fabrics will be removed from your shopping cart and your matching board.
Tips and tricks for the blog
You probably noticed that our blog is new and improved! You will find our traditional DIY's, articles presenting some of our current favourites, and new types of articles. You will also be able to find a new glossary that will constantly be updated, text explaining different techniques for the different types of fabrics, articles on current trends and all sorts of other information we hope you will enjoy.
This concludes the overview of all our favourite functions! Don't hesitate to leave us comments, here and on our social media. We are always here to listen to all your suggestions!